archive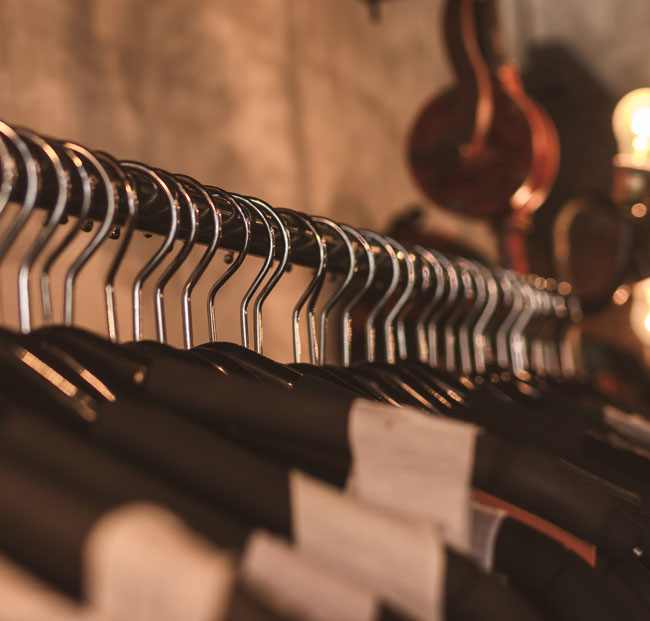 5 Steps to Capsule Wardrobe Success
Our world is nothing if it is not consumer-led. We all enjoy filling our houses with accessories and clothing is now more affordable than ever.
It's no surprise then, that we are seeing a surge in advice on how to de-clutter. Marie Kondo is probably the most famous declutterer – officially known as an 'organisation consultant'.
So, with this topic hot on everyone's mind, here's how to get to grips with the idea of less is more.
Focused fashion
The idea of a simple, clutter-free wardrobe is nothing new in the fashion world. You'll no doubt be familiar of the concept of a capsule wardrobe: one where you can pick and mix separates to create an outfit for any occasion. Many of us aspire to this notion but, for some reason, it's harder that it looks to create this streamlined closet.
Here are our 5 steps to turn clutter to capsule:
Donna Karan popularised the concept of a capsule wardrobe back in 1985 when she released a collection of seven interchangeable items of work clothing. So, is seven the magic number? Un-fancy.com thinks not. The general rule seems to be that you don't have to have a magic number but you should aim for 50 or fewer pieces – that includes footwear and outerwear. So, step one is to begin with a clear out.
The KonMari approach has introduced mindfulness to tidying, and it is widely believed that this is behind its immense popularity. Using this approach, it is suggested that you spend some time living with your newly pared-down wardrobe before refilling it. So, don't rush straight out to the shops!
The original concept of a capsule wardrobe was set out by Susie Faux, owner of a London boutique called 'Wardrobe'. She stated that the perfect version would contain items that never went out of fashion, for example skirts, trousers and coats. These 'staples' can then be augmented with seasonal items to create colour and flexibility. The Blissful Mind believes there are ten essential items for today's capsule wardrobe: a vest top, a short-sleeved t-shirt, a long-sleeved t-shirt, a blouse, a sweater, a black dress, a cardigan, a blazer, jeans, and a black skirt. Check out your wardrobe and make a note of any gaps or any extras.
It's time to be honest with yourself. Consider the various parts of your lifestyle: are you a parent who does the daily school run? Do you work? If so, are you office or home based? Do you spend most of your time in a city or country environment? Questions such as these will help you to determine whether any items in your wardrobe are surplus to requirements. They will also help you to tweak the capsule wardrobe essentials. For example, there's little point in owning heels if you live in the country, work from home and enjoy an outdoor lifestyle. Remember, being honest might mean parting with the chiffon party dress that you simply love but which is likely to be worn once every few years.
Now for the fun bit! It's time to shop for the finishing touches to your capsule wardrobe. Ok, before you jump into the car and whizz off to the mall, there needs to be some planning. Think again about the lifestyle you confirmed in step 4. And also think about your colours – what looks good on you? Many capsule wardrobe basics are monochrome to provide the greatest flexibility so it's likely you'll want to add some pops of colour into the mix. Understand your budget: if you are investing in a few key items, it's better to buy quality. Sometimes, the clearance bargains are the things that take us off track – the sale is too tempting and we forget about fit, style and practicality.
The great thing about capsule wardrobes is that they can flex for the season. You don't need to feel you have to shop for every eventuality: work out what you need for now and then go through your planning again a couple of weeks before the next season starts, ready to replace anything that's not right for the weather and your lifestyle.
And there you have it: a fuss-free wardrobe which will save you time and money and mean you always look dressed to impress!
Shopping insider at The Brewery
Argos
Black High Neck Ribbed Dress – £20.00
TKMaxx
Three Pack Beige Canvas Trunks – £149.99
Sainsbury's
Home Woven Heart Storage Basket Large – £10.00
Sainsbury's
Home Wooden Hangers x5 – £5.00