news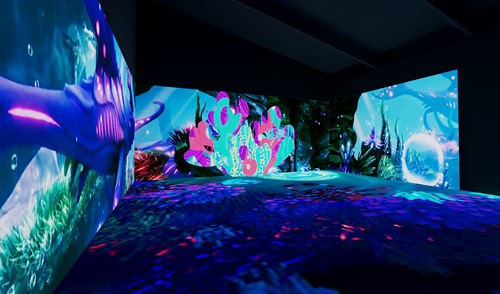 First of its Kind in Europe, and Second in the World: Fantastical Interactive Space 'The Oceanarium' opens at Kidspace Romford
Experience the wonders of the deep sea without getting your feet wet in Kidspace Romford's newest project, The Oceanarium, opening on July 29th.
This new interactive room, situated within the Kidspace indoor adventure playground, will allow children and families to experience an incredible undersea journey together. The space utilises the latest in interactive projection technology to create a magical deep-sea landscape which responds to users' movements.
Guests will get the chance to view and interact with virtual sea life, including schools of fish, whales, octopi, plankton, jellyfish, seaweed and coral. They will also be able to influence the world around them via touch screens and built-in sensors which track guests as they move around the room.
Crabs follow after your footsteps, fish respond to being touched, and creatures come to life and interact with one another as they're sent out into the sea floor by users. The room will have an educational purpose in the form of allowing kids to learn about ecosystems, as the decisions they make on touch screens visibly affect the environment around them.
Keeley Roper, General Manager at Kidspace Romford, says: "This new project is really setting the bar high in terms of entertainment for indoor activity centres – nothing else like this exists in Europe, and we are proud to have the first at Kidspace Romford. This really is a fantastic way to get children excited about science at a young age, they can learn all about the ocean and its ecosystem through the interactive play."
The Oceanarium is the first of its kind in Europe, and only second in the world.
Knowing it can be hard to separate kids from their screens these days, Kidspace has always utilised the latest in interactive tech within its incredible playspaces. Previous projects include the interactive sandpit, which displays different maps (and inhabiting creatures) depending on how the sand is piled, and the virtual slide, which features user-responsive moving graphics.
To celebrate the launch, Kidspace is running a contest to get guests into the seafaring spirit: give us your best whale impression, and we'll feature the winning entry as a guest star in the Oceanarium's soundtrack!
The contest will be available to enter on Kidspace Romford's Facebook page, or by emailing your video in to marketing@kidspaceadventures.com. Romford's Time 107.5 will also be awarding prizes to listeners who call in and perform their best whale impression on air.
About Kidspace Adventures:
Kidspace is an award-winning indoor play and party venue for under-12s. It offers a wide variety of activities including go-karts, climbing walls, soft play, interactive sandboxes and laser tag as well as hosting themed birthday parties.
Tel: 01708 768003 / Website: www.kidspaceadventures.com/romford