archive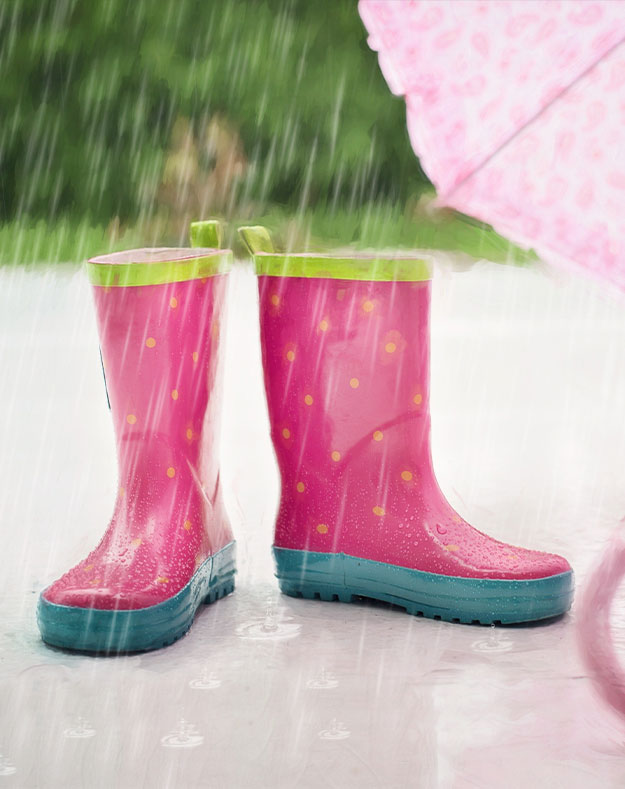 November: Rain Or Shine?
So far, we've had a warmer than average October, but this season's wet weather gear is simply too good to save for a rainy day. Check out the fabulous colours and styles on offer and get yourself decked out for some outdoor fun!
A drop of inspiration
It's not as if we needed proof that, for fashionistas in 2018, anything goes, but here's some anyway. Back in January, Fendi's menswear show in Milan featured monogrammed umbrella hats. Yes, you read that right. Somewhat chicer than the ones you might be used to seeing, they were a part of the 'ease-of-travel' themed show and perfectly demonstrated the benefits of keeping dry and still being able to use your hands.
If anyone knows how to put the 'oooh' into monsoon, it's British Vogue. Check out their article on How To Style Out a Rainy Day for inspiration. We particularly like the cute see-through rain hats. So much nicer than the ones your Nan used to tie round her hair to keep the blue rinse from running.
Wellie Watching
Since the rise and rise of festival chic, wellies are a staple part of everyone's wardrobe. They're also now available in more shapes, colours and styles than you can shake a wet stick at. But what should you look for when choosing your ultimate puddle-jumping footwear?
Wonderfulwellies.co.uk recommends three top qualities: comfort, warmth and waterproofing.
Here are our top tips for picking the very best pair of boots:
Size: In terms of fit, it's not just about foot sizing. You also need to think about the fit around your calf. Too tight and puddle jumping could be problematic. Too baggy and you might end up taking on water.
Durability: wellies are available for every type of activity you can imagine, from festivals to farming, and walking to wading. As with all things, price affects durability. You get what you pay for and, if you're planning to use your wellies in anger, it's worth looking for a more durable, higher-priced pair, or even the more specialist styles designed with a particular activity in mind.
Comfort: there are a couple of things to consider in terms of comfort. Firstly; the lining of your wellies. Some of the higher-priced boots have a neoprene or other type of additional lining, making them more comfortable that the 'single-skin' versions. These linings can also keep your feet warmer but you need to be careful not to buy a boot that will be too warm in Spring or Summer. Secondly, you need to check that the wellies you choose give your feet and ankles adequate support. Even if you're just wearing them for dog walking, you'll soon feel a lack of support if you're on grass or rough terrain.
Brilliant Brollies
Despite huge technological advances across society, the design of the humble umbrella has barely changed since it was invented over 4,000 years ago. First designed to protect people from the sun, the rain umbrella seems to date from the 17th century, although they were originally made of silk, which offered very little water resistance.
Given 2018's trend for varied textures and unusual materials, it's no surprise to learn that umbrellas haven't escaped the eye of the fashion creatives, as this piece by pouted.com shows.
However, if you want something a little more sedate than an umbrella with a light saber as a handle, the high street choice is as colourful and varied as ever. From clear plastic 'bubble' brollies, to rainbow brights and autumn leaf prints, there's something here for everyone.
It's almost a shame to wait for the rain to come.
Shopping insider at The Brewery
Gap Outlet
Dino plate rain boots – £29.95
TK Maxx
Mammut Blue Lightweight Rain Jacket – £44.99
TK Max
Lynx Golf Umbrella – £14.99