archive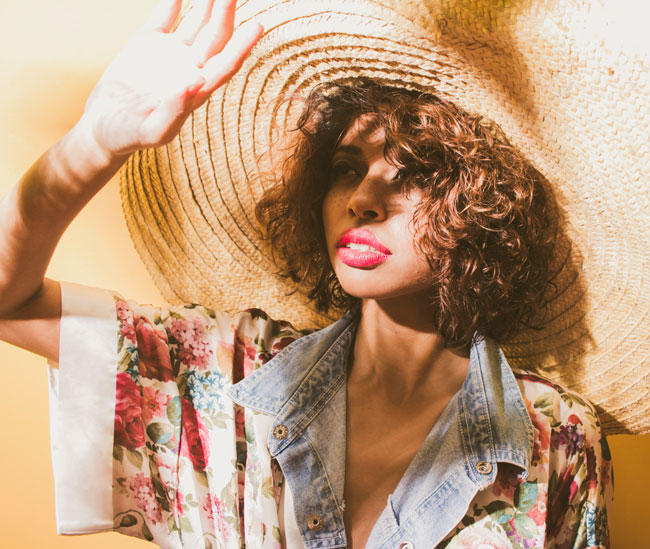 3 cool ways to look hot, even if the weather's not
Spring Summer 2019 seems to be all about having a little extra – and that's from head to toe. We're seeing oversized hats, shout-out colours in tie-dye and neon, and even the humble sandal has suddenly become bold. Check out our top three fashion must-haves for your very own sizzling hot Spring.
1. You can leave your hat on…
…but only if it's enormous. The fashion for oversized hats actually landed in SS18 with the success of the Jacquemus La Bomba hat, but more and more brands are now vying for a piece of the action. We're seeing fabrics from tulle to raffia and everything in between and styles emulating witches' hats, flowers and, well, candyfloss actually. At least these accessories are useful come rain or shine. Shelter beneath your very own and show off your flamboyant side.
2. The devil's in the detail
There's no space for plain and simple this season. Whether you go for fringing or feathers or choose to show off complexity in colours, SS19 is all about mixing it up. Fringes are everywhere: on dresses, jackets, skirts but partywear is where the frou-frou is at its most frivolous. Colours and, for that matter patterns, are also all about throwing caution to the wind. SS19 is all about bright, bold and badly clashing! Tie-dye, neon and floral are all on the table with mix and match a must. No-one's going anywhere incognito this season.
3. Fancy footwork
Our favourite friend for warmer climes, the sandal is finally getting some extra love. Having been clumpy and geekish as well as strappy and barely-there, this timeless footwear has been through some evolutions. This year, it's joining the fashion for funky fringing and feathers. Check out this gallery from Elle.com to see how you can be footloose and fancy-free this Spring.
Shopping insider at The Brewery
Argos
Gold Plaited Toe Post Sandal – £13.50
Argos
Sole Comfort Green Fringed Loafers – £13.50
Next
Neutral Trilby Hat – £14.00
Hobbycraft
Peacock Feathers 4 Pack – £1.70