archive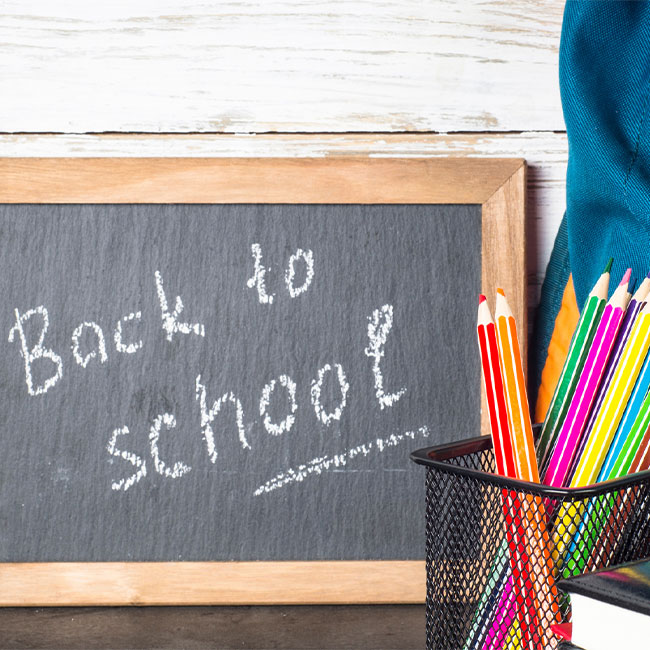 Back to school must-haves
Time flies when you're having fun, and that's never truer than over the summer holidays.
September will be here before you know it, and whether your child is starting school or returning for another year, it's important that they're well prepared for the new term. From uniforms to stationery supplies, we've rounded up the 'back to school' must-haves!
We've also put together a tonne of tips for people heading back to the office or continuing to work from home who are looking to build a simple (capsule) wardrobe.
And, because summer is nearly over, we've pulled together our favourite feel-good style hacks so you'll be ready for anything Autumn throws at you!
Back to
Skool

School!

'Back to school' season is almost here, which means it's time to stock up on essentials.

In all the chaos that comes with the new school year – it's easy to miss something along the way. We've put together a basic checklist to ensure your child is properly prepared for the new school year.

Uniform: Check out the Tu clothing section at Sainsbury's. From polo shirts, trousers and skirts, to new shoes made with a scuff-resistant coating to survive the playground, you can stock up on uniform basics.

Stationery: Poundland has a collection of fun and colourful pencil cases. What's a pencil case without pens and pencils? Check out the Back to School essentials collection at The Range. Don't forget to pick out a lunchbox as well!
Back to the office in style
If you're heading back to the office soon, will you throw on those old clothes? If your workwear is in need of an update, a capsule wardrobe (a limited selection of interchangeable clothing pieces that complement each other) can be a great start to make you feel stylish and ready for anything!
Clothing priorities have changed in the past 18 months, so we suggest starting with a few key items to build your work capsule wardrobe:
An oversized blazer – A blazer elevates a simple outfit like a T-shirt and jeans, but can also be layered over skirts or midi dresses for office wear. If you like colours, a bright blazer can really lift the spirits.
A chic skirt – There's a reason a black pencil skirt is a classic office wardrobe staple. Style a pencil skirt with an on-trend shirt print to start the week in style. We like the Polka Dot black blouse, £12.99 from TK Maxx.
Trouser time – When the weather changes, play with different cuts to go to work. From cigarette trousers to culottes, find what works for you. Wear with a T-shirt for a casual look, and add a blazer for that all-important meeting.
T-time – A basic T-shirt is one of the easiest and most versatile wardrobe staples, and is also a staple business-casual item. It works well with a statement jacket or trousers. Check out the Tu clothing section in Sainsbury's.
Midi Wrap Dress – Plain or floral? Black or bright? Comfortable and easy to wear, picking a wrap dress is like after-work drinks – it's hard to just go for just one!
For jewellery, look for pieces that can be worn daily, but cool enough that they stand out. When it comes to shoes, invest in a pair of flat ballet pumps, ankle boots or knee-high boots and coloured heels – these will go with all your capsule wardrobe staples!
These tips should stop you stressing over your back to work outfits, and give yourself more time to pick up a Starbucks from The Brewery on the way to work!
Home Office Inspiration – How to create your ideal desk
If you're working from home it is time to say hello to the hot desk! There's never been a better time to ditch the dining room table (or sofa / bed / kitchen worktop) and create a working space to call your own.
If space or budget is limited, take a look at stylish ladder desks in Argos. They also have a range of options, from corner units to ergonomic standing desks.
Once you have your dedicated working area, create a harmonious atmosphere with soothing scents and faux plants from Homesense. Choose a comfy yet stylish office chair. We like the sitting pretty desk chair – £99.99 from TK Maxx
Don't forget to add lighting to your desk space and a selection of colourful notebooks from Poundland. Keep your desk tidy with folders and storage from The Range.
A Blooming beautiful prize from The Brewery Flowers
The Brewery Flowers is giving away a bouquet of flowers worth £30 on the 31st August. For the chance to win, head over to one of our social media channels on Facebook, Twitter or Instagram, and tell us who you think deserves flowers in the comments! Don't forget to follow The Brewery Flowers on Facebook or Instagram for all their latest news and updates. Good luck! 🍀
We hope we have given you some style ideas to get ready for September, and we look forward to seeing you soon. The safety and comfort of our customers remains important. We would like to remind our customers that the use of face coverings is still recommended, to protect yourself and others throughout the centre. #ShoppingSafe