news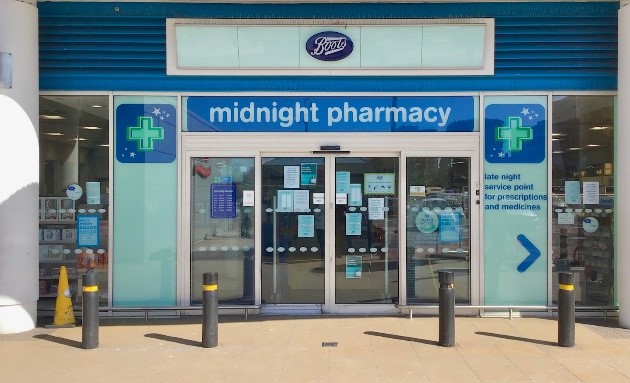 Boots Store Team Shout Out
We had a chat with store manager,  Diljeet Chana at Boots in The Brewer , to find out how they are coping in this unusual time, and what they are allowed to offer Brewery shoppers as essentials:
Which products are you able to offer our Brewery shoppers?
We are open for all essential items, which includes medication, personal care products, baby food and infant care items.  We also have a midnight pharmacy kiosk window that is open every day until midnight.
What are you current opening hours?
We are currently open on the following days:
Monday – Friday: 09:00am – 06:00pm
Saturday: 10:00am – 06:00pm
Sunday: 11:00am – 05:00pm
Are there any special offers running at the moment?
As during usual business, our regular store offers still apply.
What kinds of measures have you put on place to support the COVID19 situation?
We have introduced social distancing in our store and are reminding everyone with a 2 metre distancing sign outside our doors.
We've been working two queues for the past week or so; prescription through the hatch and essential retail through the door where we have a runner to 'shop' for those essentials and customers just come in to pay.
Currently we are looking at moving to one queue, which will be manned by a member of staff, and make use of two runners in store, one for prescriptions and a second for retail however we're still ironing out the finer details with the company and, of course, this is dependent on having the staff resource available.
The company is now supplying us with till barriers, and will also be providing face shields which should come in over the next fortnight, at which point we will be looking to open the store up a little more and allow a set number of customers in at a time to shop semi-freely.
We are trying to discourage non-essential shopping but, disappointingly, are still seeing requests for perfume, makeup, hair dye etc. When we do open up I suspect we will still be restricting the sales of many of these items – subject to company and government guidance of course.
Would you like us to share any messages from you and the team to our Brewery shoppers?
The Brewery would like to say a massive thank you and well done to the whole team at Boots for doing such a fantastic job – we'll share more updates very soon.