archive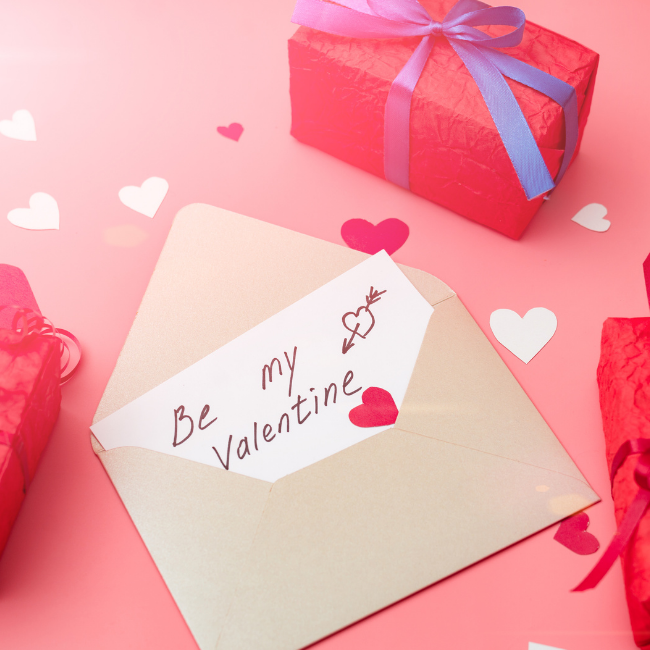 Celebrating the Month of Love!
We want to bring LOVE back into the community. And whether we're in Lockdown or not, there are still so many ways to celebrate Valentine's with those special people in your life this year. We'll be giving you our best tips on how to create a romantic night in, making each other's favourite dish, to just being silly and playing a board game with a cosy massage for the winner!
Sounds fun, right? Read on…
Ready to Romance!
We get it, Lockdown has taken away evening dinners out at your favourite restaurants, spa weekends and so much more. But just because we can't go out to our 'top spots', doesn't mean you can't have a romantic night in, don't you agree?
We've got a few ideas and we just want to inspire you:
1) Make dinner together, you'll love deciding which sauce to pop in your pasta and choosing a dessert to satisfy your sweet tooth.
2) Once dinner is done, put on a film you watched when you first got together & reminisce about all the good times from then, to now!
3) Want to go the extra mile? Run a bath and light a few scented candles, this way they can finish the evening feeling totally relaxed (and in love with you!). However, if your partner in crime isn't really a bubble bath kind of girl or guy, you could opt for chocolate covered strawberries instead – we think that's just as exceptional!
We'd recommend a visit to Poundland, Boots or grabbing a click & collect from Argos when you're next at the centre picking up your essentials. You could get a sweet or sentimental gift for the one you love, be it spa pamper gifts, a new book, mugs or even something gadget-y!
*Please remember that due to the current National Lockdown, not all our stores are open at the moment.
But First, Brunch
Making each other's favourite brunch dishes is truly the way to someone's heart (well, it is for us anyway!)…
Whether you decide to make this a new tradition before, on, or after Valentine's, we think it's a lovely (and simple) way to say 'I love you'.
Need some inspiration when it comes to yummy brunch ideas? Fret no more, we're here to help.
– 'Special' eggs & salmon (the special part comes from you getting out of bed and making the brekky *Wink*)
– French toast or pancakes with berries – a truly 'sweet' combo
– Fresh smoothie (if they're on a New Year health kick!)
– A simple bowl of fresh fruits, yoghurt, nuts and honey
Got the idea? We knew you would!
Fancy like grabbing new tableware pieces to make this brekky/brunch combo extra fancy? You could go to The Range and Sainsbury's on your next visit to the centre. (Or, if you decide to make something like cookies or toast, you could even click & collect heart-shaped cutters from Hobby Craft)
*We'd like to remind all our wonderful customers that although some of our stores are open, you should be following the government guidelines of wearing a mask, sanitising regularly and keeping a safe distance to others when visiting the centre.
Board Game Bae's (with optional wine…)
Now, this is something that can either make or break a relationship…
Playing board games like Monopoly, Cluedo or even a simple game of charades can be a fabulous option as we stay in this Valentine's – just try not to kill each other when 'Mayfair' is bought!
You could spice things up a little bit and play with your favourite bottle of wine and nibbles – YUM! If this sounds appealing to you but you don't have board games lying around the house, be sure to make a speedy click & collect from Argos before the special day!
Wanting to try some new nibbles too? Pop to Dulce to grab everything you may need. Not to forget a delicious bottle of plonk from Sainsbury's, or ingredients to create your own at-home cocktails perhaps.
We also want to give you a little challenge – if you find yourself playing a game of charades, be sure to throw these doozy action movie titles at your partner! We'd suggest making a wager, because you'll definitely win.
Try these:
– Die Hard
– The Dark Knight
– The Terminator
– Taken
– Mission Impossible
So, as we enter the month of love, it only seemed fitting that we created a Style article bursting with ideas on how to spend our first Valentine's forever, in doors only! Lockdown or not, we know that you'll create a special day for you and your loved one – especially with all the extra 'essentials' you'll buy from the centre! We hope to see you soon and remember to always #ShopSafe when you're at The Brewery.