archive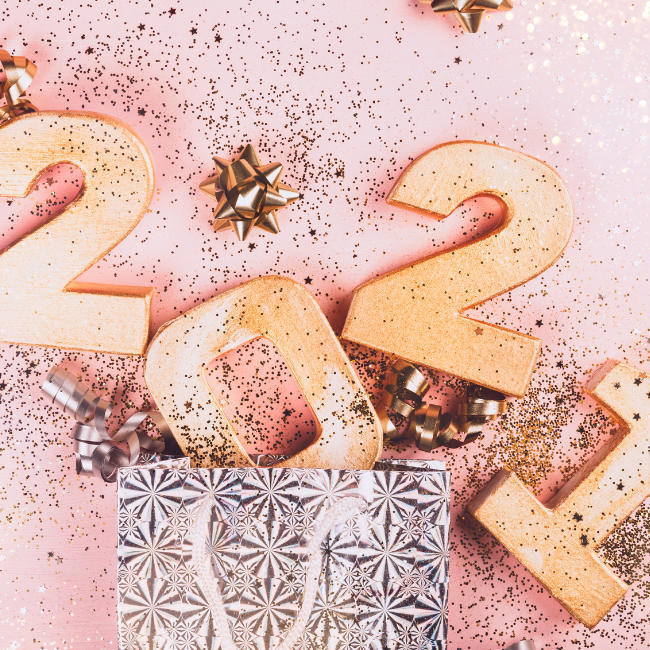 Celebrating the New Year at Home & How to Have a Positive Start to 2021!
Can you believe that New Year is only a stone's throw away? We can't either! We get that COVID-19 has stopped us having the Spring, Summer and Winter we all wanted, but we are determined to bring in 2021 with positive vibes only! We want to give you a bunch of cool ideas on how to spend New Year's at home (whether you're with family or flat mates), and how to have a bright start to 2021.
Ready to get inspired? Keep reading…
Host a Fancy Smancy Dinner
Whether you're with the littluns' or you're spending the countdown to New Year's with the best friends you live with, host a fancy dinner… 'cos why the hell not?! You deserve mini canapés; a three course slap up meal and flowing wine!
You can create a menu together, where everyone has a course they LOVE. Doesn't that sound like great fun?! You can pick up any foodie bits you need from Sainsbury's, as well as dinner party tableware or accessories from VFM, The Range and TKMaxx.
We suggest those fun toothpicks with the umbrellas, party poppers (from Party Delights of course) and chic grazing platters for those delicious mini bites.
Countdown Party Bags
Who would say no to a party bag? We know even adults wouldn't be able to resist… Create a countdown bag that you can open up one hour before the clock strikes 12!
These bags can be used with family, kids, friends or even just for you and your partner – the possibilities are endless…
Simply buy some paper bags from Poundland along with arts & crafts from HobbyCraft and let the kids (or yourselves) get creative by making these bags look fun & colourful! Then, you can pop in some of yours and their favourite bits. This could be chocolates & drawing pads for the kids, or a small bottle of prosecco for your spouse… You can treat these like belated stocking fillers (yay, more presents!!).
You can buy plenty of special pieces from the centre… whether it's from The Entertainer, The Range, Sainsbury's, Smyths Toys, Poundland or TKMaxx.
Karaoke & Quizzes
Who doesn't love singing their fave songs at the top of their lungs or becoming the new quiz master of the household?
Fancy getting a little dressed up while you're blaring out tunes? Pop to Party Delights for unique New Year's accessories and dress-up pieces! We think the kids will ADORE having extra fun with costumes for 2020 New Year's.
Or prepare for the quiz of all quizzes. You could grab pens, paper and even a 'winning prize' from Poundland, Sainsbury's & HomeSense.
Prepping for a Positive 2021…
Seeing as 2020 dealt us a bad hand, we want to give you a few tips on how to keep your spirit up in the New Year.
Live Each Day to the Fullest: We all thought that 2020 'was our year' but knowing how drastically the world can change in a matter of weeks, should remind us to take each day as it comes and to think more about what we want to do. So, walk briskly into 2021 with a little more spontaneity under your belt and say YES to things you may not have previously. You never know what a simple 'yes' could bring you…
Everybody at The Brewery thinks that it'd be great to keep positive affirmations written down on a board or in a diary… Then, each day you can find a positive quote that puts your mindset back in the right place! If you're in need of notepads, scrap books, pens and more, head to HobbyCraft, TKMaxx and Poundland where there's tonnes to choose from.
Set Goals: This could be anything from baking once a week, heading to the gym and smashing your 10K steps goal or simply reading a new book each week – the world is literally your oyster… A new hobby could really put your mind in a positive space, making you feel busy and appreciated! (We always feel so appreciated when a new recipe works out and people are thanking you for satisfying their sweet tooth…).
Head to Nuffield Health or Pure Gym and join up now. Or pop to HobbyCraft for essential baking bits & Sainsbury's for a new page turner.
Create a Safe Space for Family & Friends: We now know how important it is for us to speak out when we're feeling a bit blue. Keeping positive for the New Year means that you should have a 'safe space' to talk to friends and family and vice versa. Knowing that you can call someone once a week to check in to see how you both are is an important part of keeping positivity up and negativity buried away! Grab a new diary from the centre and pencil in your loved ones each week, so you don't forget to check up on one another.
Positive Quotes We <3
"Keep your face to the sunshine and you cannot see a shadow." – Helen Keller
"Positive anything is better than negative nothing." – Elbert Hubbard
"You are never too old to set another goal or dream a new dream." – Les Brown
"If opportunity doesn't knock, build a door." – Melton Berle
Now that we've given you tips & tricks on how to enjoy a New Year's bash at home, and a how-to on prepping for a peppy 2021, the power is in your hands! Be sure to pop to the centre to grab the essentials you need while getting organised for the 1st January and beyond… The Brewery is wishing you a happy and healthy New Year.