archive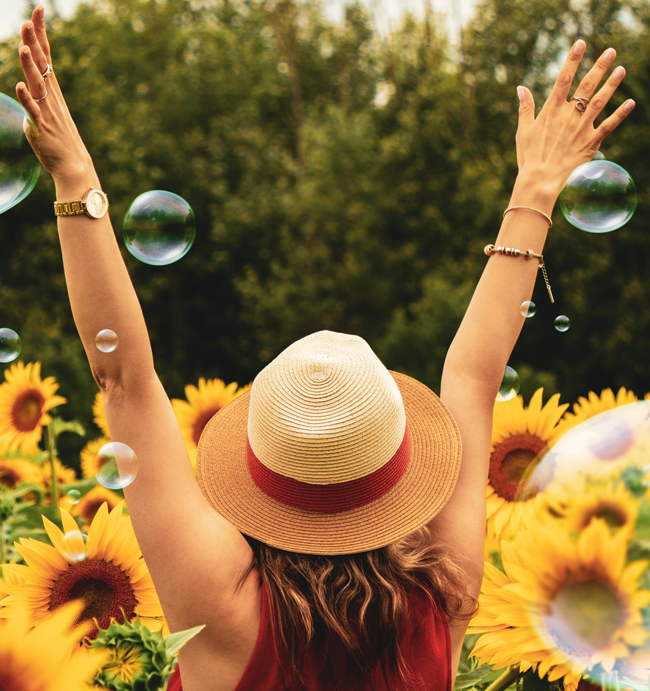 Make Garden days fun, tasty and creative
Summer's here! We promise it is. And once that warm weather hits, it's time to start the great garden chill. Whether it's BBQ galore, things to keep the kids busy, or just a nice place to relax with mates, we've got some great ways to get garden ready this season!
Let's grow…
Keep kids occupied
No garden is complete without a piece of play kit for the kids. Believe us, it stops the whining when you're trying to have five minutes of tanning time! Got a big space? You need a swing set in your life. Or, take on the trampoline challenge. It may take a while to set up, but once you've conquered it, you'll have hours of peace and quiet and, let's be honest, we all love a good jump when they're safely tucked up in bed.
Smaller space? Get creative. Jumbo chalks are a great way to encourage kids' creativity and can be used to draw pictures, hopscotch boards or, pretty much anything else, on paving slabs.
Alternatively, draw a car or train track and bring out their toys, and there you have a quick and easy way to play right there.
Water play
No hot day in the garden is complete without water play. Whether it's a paddling pool filled up and left in the sun to warm up, a slide and ride, or hose pipe spray, it's a great way to keep kids entertained and cool too. Thinking about budgets? How about a baby bath as a little place for play? But even a pot or washing up bowl works just as well. Just fill it up and use it as a 'swimming pool' for their toys. Splashing!
Not your thing? A kids' watering can is a great way to teach them all about the importance of nature and care… and a sneaky way to keep your flowers watered too. We didn't say that
.
Garden glam
It's no longer acceptable to just have a nicely mowed lawn – nope, garden style has moved on with lights, ornaments and garden crockery taking centre stage. So, keep on-trend. LED lights in a range of shapes and sizes are great for draping over trees to create a wonderland feel, or on fences to give a little nod to a festival. Add a couple of bright ornaments (we're not talking gnomes) and hang a few signs on trees or by your garden table and you're quickly bang into 2019. #yourewelcome
Feed me
You don't need us to tell you that a BBQ makes a garden day complete! And the great news is there's one to suit any chef and space! Not a charcoal fan? Go for gas. Small space? Take on a small round version, or, go disposable! Then get cooking. Stuck for inspiration? Take a look at these cool recipes we spotted on BBC Good Food. Oh, and let's not forget dessert. Buy fun molds, stick in the juice and fruit and there's a five-a-day snack. Just don't forget our invite!
Stay sun safe
We don't want to sound like our mums, but hot garden days call for sun safety! We wish we had a PHD to our name, but, well… we'll leave it to the experts at the NHS, who recommend spending time in the shade between 11am and 3pm. The medical bods also advise using factor 30 sun cream and making sure kids are covered up with hats, UV swimsuits and sunglasses! Got a fussy tot? Invest in a UV tent. Not only will it keep them occupied, but it's a great sneaky way to keep them out of the sun too!
Shopping insider at The Brewery
Smyths Toys
8ft Trampoline with Safety Net – £74.99
Smyths Toys
2 Unit Swing and Seesaw Set – £49.99
Argos
Home Set of 20 Solar Flamingo String Lights – £20.00
Argos
4 Burner Propane Gas BBQ with Side Burner – £120.00