events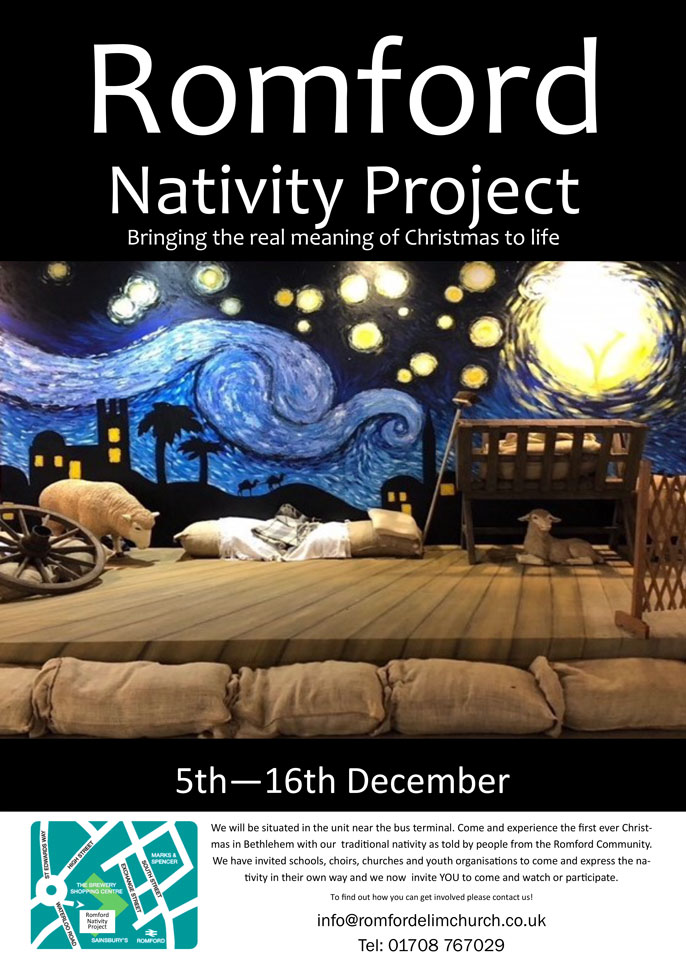 Romford Nativity Project 2018
Bringing the real meaning of Christmas to life
The acting and the sketches brought the Bible passages to life and challenged the children's thinking. The children really enjoyed the experience and spoke excitedly about it to their peers in school. This visit was something which we would be very keen to repeat in forthcoming years and we would not hesitate to recommend!
S.Ellner – Head Teacher, St Edwards Primary School, Romford.
Have you planned your school Christmas outing yet? Then look no further than the Romford Nativity Project. In 2017 over 2,221 people visited the project, 1,074 of which were schools. If you have been before don't worry we will be having a fresh new programme. The unit will be opened by the Mayor of Havering 10am Wednesday 5th December for the first performance.
Once again the project will be based in the Brewery Shopping Centre for 12 days, 5th-16th December 9am – 3pm approximately each day where the general public can walk in, schools and groups book in, and it's all totally free. After 3pm, afternoon or evening, community groups, churches, youth, Brownies , businesses, care homes etc can all book and we would be delighted to perform the nativity to you. We will be creating a full size manger scene and presenting the story of Christmas through mediums of music, drama, story-telling, quizzes, art etc. The purpose is to remind people of the first Christmas in Bethlehem and its true meaning.
What do you have to do?
1. If you're a shopper simply come to the unit and walk in!
2. To book a group in simply telephone Romford Elim Church 01708 767029 or speak to me direct on 07986 863460 or email info@romfordelimchurch.co.uk. We will be operating on a first come first served basis.
3. Let us know the day and the time and how long you want the session to be as it can range from 15 minutes to an hour
4. Turn up and enjoy the real meaning of Christmas!
Looking forward to hearing from you!
Rev Glen Podd
Nativity Project Manager
Tel: 01708 767029
info@romfordelimchurch.co.uk
www.romfordelimchurch.co.uk
Charity No: 251549