events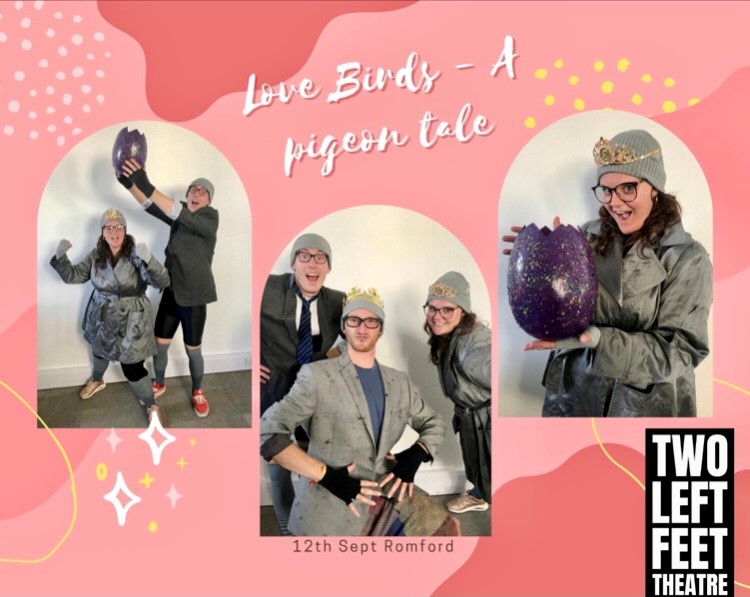 Two Left Feet Theatre presents Love Birds – A Pigeon Tale
Two Left Feet Theatre Company will be taking to the streets of Romford on Sunday 12th September 2021 to present their specially commissioned Street Theatre show Love Birds – A Pigeon Tale. This production has been specially commissioned by Havering Changing as part of Romford's Big Summer of Outdoor Arts and is totally FREE FOR ALL.
Come and meet three talented actor/musicians as they embark on a wondrous tale of hope and love.
It is the King Pigeon of Romford's daughters 18th Birthday and Bessy is in for one big surprise! You see the King Pigeon's evil identical twin brother has stolen the family's magical egg and placed a malevolent curse on poor unsuspecting Bessy. If she doesn't find TRUE LOVE by midnight tonight then her whole flock is doomed. Can you and your family help Bessy find true love? Well come along and join us for a special street theatre show full of song, dance and laughter!
The show is for the whole family, both young and old and involves lots of audience participation. The company are also joined by a community choir made up of Romford locals.
There are no tickets, just turn up to your choice of location to watch for FREE!
Date: 12th September
Locations and times:
Upstairs in the Brewery @ 11.30am
The Liberty Shopping Centre @ 1pm
Romford Market Place @ 2.30pm
Written & Directed by Patrick O'Sullivan
Songs and music by Steven Markwick
Cast: Grace Firth, Melker Nilsson & Liam Scarth
Contact: Patrick O'Sullivan, twoleftfeettheatreuk@gmail.com