archive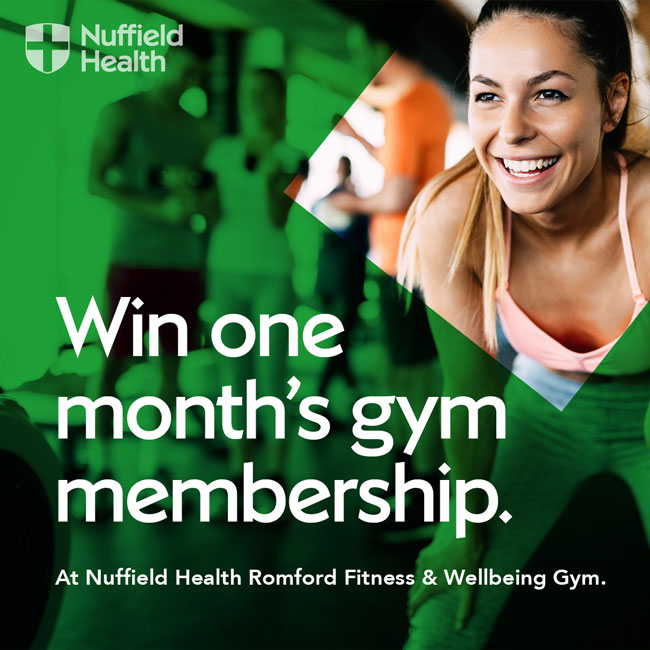 Win A Month's Membership at Nuffield Health
Get in to shape with a free month's gym membership courtesy of Nuffield Health. For your chance to win this great prize simply fill in the form below and keep your fingers crossed.
Closed
Offer Rules & Disclaimer
Terms and conditions:
Promotion opens at 09:00:00 on 01/07/2019 and closes at 23:59:59 on 31/07/2019.
1. This promotion is only open to participant who are aged over 18 years.
2. By entering this promotion you (the "Participant") agree to be bound by these terms and conditions.
3. No purchase is necessary to enter.
4. Promotion Period: The promotion will be open from 09:00 on 1st July 2019 until 11:59 31st July 2019.
5. The promotion is only open during the Promotion Period. Any entries submitted or received outside of the Promotion Period, or which are incomplete, will not be accepted.
How to enter
6. Participants are required to enter at www.thebreweryromford.com
7. One winner will be chosen at random to win one month's membership at Nuffield Health Romford.
Winner selection process
8. Prize draw will be made by 21.00 on 1st August 2019 by The Brewery Romford. Winner will be chosen at random providing the Participant adheres to all promotion terms and conditions.
Winner Notification Process
9. The winner will be contacted either in person, e-mail or telephone by Nuffield Health Romford within 14 days of being selected. Nuffield Health will notify the winner that all prizes must be booked at Nuffield Health Romford within one month of prize draw or will lapse.
10. In the event that the winner has not responded within 30 days of the notification then the winner shall forfeit their prize and Nuffield Health Romford reserves the right to reallocate the prize to another participant selected in the same manner. The prize must be taken as state and no compensation will be payable if the winner is unable to use the prize as stated.
The prize cannot be transferred or exchanged and no cash alternative is available.
Use of entry
11. By entering this promotion all Participants permit Nuffield Health Romford to use, copy or publish the material and information provided by Participants as part of their entry.
General
12. Participants found to be using multiple entries will be disqualified.
13. You understand that you are providing information to Nuffield Health Romford. The information you provide will only be used for fulfilment of this Promotion unless you have agreed to its use for any other purpose.
14. By entering this promotion, participants agree to assign all right (including copyright and other intellectual property rights) in their entry to Nuffield Health Romford so Nuffield Health Romford can use indefinitely for whatever purpose Nuffield Health Romford wishes.
15. The prize carries no cash value, is non-transferable and may not be substituted by the winner. No compensation will be payable if the winner is unable to use the prize as stated.
16. Nuffield Health Romford reserves the right at its absolute discretion to disqualify entries which it considers do not comply with these terms and condition or any participant who it reasonably believes has interfered with the fair running of this promotion.
17. Nuffield Health Romford shall have the right, where necessary, to undertake all such action as is reasonable to protect itself against fraudulent or invalid claims including, within limitation, to require further verification as to the identity, age, and other relevant details of an participant.
18. Nuffield Health Romford reserves the right to cancel or amend the promotion and these terms and conditions without notice in the event of a catastrophe, war, civil or military disturbance, act of God or any actual or anticipated breach of any applicable law or regulation or any other event outside of Nuffield Health Romford's control. Any changes to the promotion will be notified to participants as soon as possible by Nuffield Health Romford.
19. Entries must be made by the participant, and must not be made through agents or third parties. Proof of identity may be requested.
20. Nuffield Health Romford's decision is final and no correspondence will be entered into.
21. The name and country of residence of the winning entry of the winner will be available by sending an SAE to Nuffield Health, Epsom Gateway, Ashley Avenue, Epsom, Surrey, KT18 5AL.
22. Nuffield Health Romford reserves the right to publish the name and county of residence of the winning entry. The winner may be required to participate in Nuffield Health Romford's marketing and promotional activities and by entering the Promotion consents to such participation.
23. Nuffield Health Romford will only use the personal details supplied for the administration of
the promotion. Nuffield Health Romford may disclose participants personal information to its contractors and agents to assist in conducting this promotion or communicating with participants. See our privacy policy at http://www.nuffieldhealth.com/nuffield-healthprivacy-policy
25. By entering the promotion, the participant agrees to release Nuffield Health Romford from any liability whatsoever for any claims, costs, injuries, losses, or damages of any kind arising out of or in connection with the promotion or with the acceptance, possession, attendance at or use of any prize (except death or personal injury caused by Nuffield Health Romford's negligence, for fraud, or otherwise as prohibited by law).
26. This promotion and these terms and conditions is governed by English law and any disputes will be subject to the exclusive jurisdiction of the courts of England.
27. Nuffield Health Romford: 4 The Brewery, Waterloo Road, Romford, RM1 1AU.