news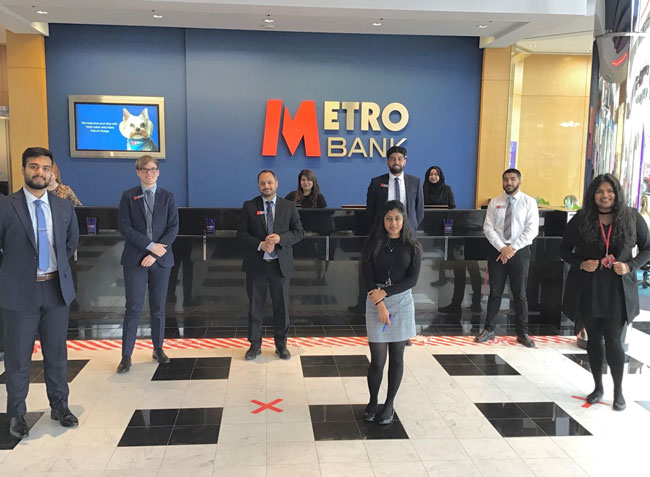 Metro Bank Store Team Shout Out
We had a chat with store manager, Alex Roots at Metro Bank, to find out how they are coping in this unusual time, and what they are allowed to offer Brewery shoppers as essentials:
Which products are you able to offer our Brewery shoppers?
We are offering all of our usual banking services and we are here for shopper to open any new accounts.
What are you current opening hours?
We are open Monday – Friday: 10:00am – 04:00pm , and closed at weekends.
Are there any special offers running at the moment?
As we are a bank, all of our usual account offers still apply.
What kinds of measures have you put on place to support the COVID19 situation?
We have introduced social distancing in our store and are reminding everyone with a 2 metre distancing sign outside our doors and markings on the floor in store.
We have also increased the frequency of cleaning across all Metro Banks, with the following measures in place:
Regular handwashing / hygiene protocols
Our store toilets are closed to customers
We're taking steps to implement social distancing
If the store is busy, colleagues will restrict the number of customers in the store at any given time, in line with the Government's advice on social distancing to maintain a two metre distance between people
Customers should then queue outside while they wait if necessary – again, at a safe distance of two metres apart
Colleagues will use every other desk / till where possible
We'll ask customers to stand two metres apart in the teller line
We'll help guide customers with marker spots on the floor
We also appreciate that coronavirus may impact our customers and their financial needs. Our customers are our number one priority, so if they do need any additional support, we're here to help and we'll assess each request on a case-by-case basis and make a decision based on the customer's needs
Would you like us to share any messages from you and the team to our Brewery shoppers?
We'd like to thank our amazing colleagues who continue to deliver the very best customer service at this difficult time. At Metro Bank we're doing everything we can to keep our services running and help all of our customers whose finances may be impacted. Customers can find all the latest information on our website at www.metrobankonline.co.uk/coronavirus. The health and safety of our customers and colleagues remains our highest priority.
Our Romford store remains open Monday to Friday, 10am – 4pm and we are taking steps to implement social distancing amongst colleagues and customers, however, we are encouraging customers not to visit unless it's absolutely necessary. If customers do need to visit the store, we recommend checking our opening hours first before making their journey: https://www.metrobankonline.co.uk/store-locator/latest-store-opening-hours/
The Brewery would like to say a massive thank you and well done to the whole team at Metro Bank – we'll share more updates very soon.