news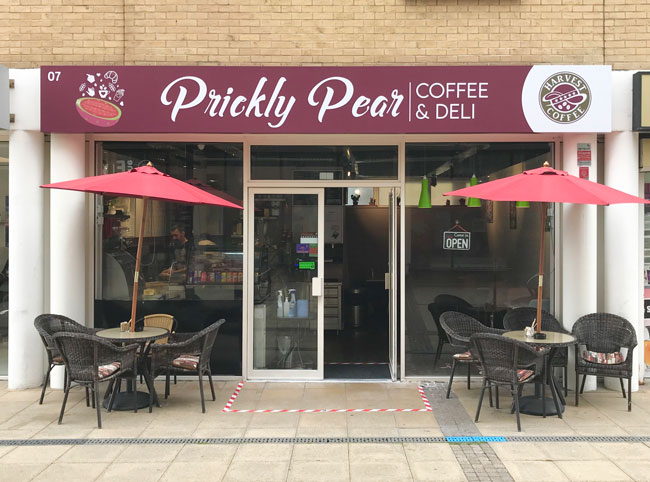 Prickly Pear: Interview
1. Tell us a little bit about you and Prickly Pear.
I have been a chef for 25 years. During my first years of being a chef in London I worked in a restaurant that served many salads, the salads which I was involved in creating featured a lot of prickly pears – this is how I got the name for the café deli: 'Prickly Pear'.
I have always wanted to open my own café deli because there is nothing better than relaxing with a good cup of coffee and a fresh sandwich and a delicious muffin!
2. What is your favourite meal and drink from Prickly Pear?
My favourite lunch time meal is a Montanarina Cotta Cereali Bread with a cup of organic hot coffee – I am proud of the coffee I serve here at Prickly Pear; we offer the best organic coffee! If I were to choose my favourite cold drink it would be a vegan milkshake – I can't decide my favourite flavour between the chocolate, banana and strawberry.
3. What makes Prickly Pear different to other Café Delis?
The service I provide to my customers I hope makes me stand out to other cafés. I have a real passion for good service and good food and strive to provide all my customers with a delightful experience.
4. Since the opening of Prickly Pear, how would you describe your time here at the Brewery Romford?
I have been truly amazed! The encouragement, compliments and support from my customers has been amazing and I feel very welcomed to The Brewery and feel it was the right decision opening Prickly Pear here.
5. Do you have anything new planned for Prickly Pear we should keep an eye out for?
I have some exciting new range of salads and dishes featuring pumpkin seeds. I am also interested in creating some tacos to add to the menu!
Want to find out more? Check out their Facebook page.