events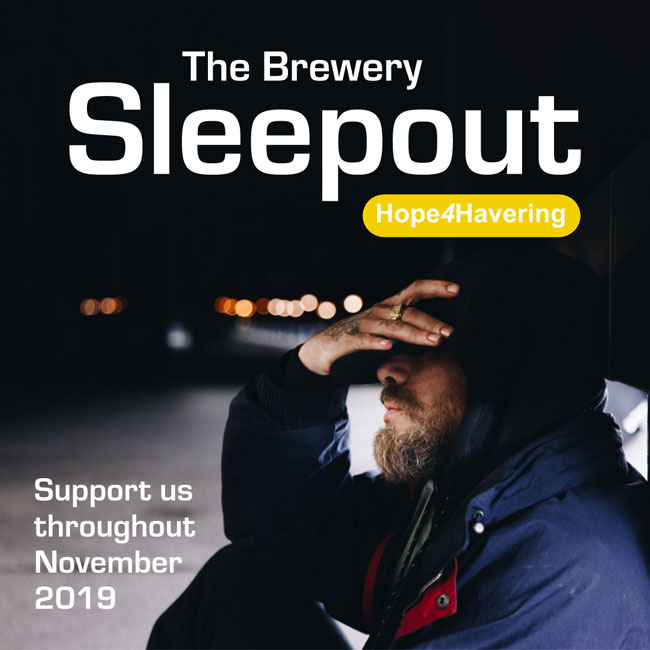 The Brewery Sleepout
For one night only in November, the management team from The Brewery will be coming together as a community to experience what it is like to sleep out on the streets, in the cold winter night.
The aim of this event is to raise awareness of those less fortunate, who sleep every night on the streets. All funds raised for this worthy cause will be donated to the Hope4Havering charity who work tirelessly to help and support the local homeless people by not only providing shelter but who also offer transformation programmes, which helps to mentor vulnerable individuals with the main philosophy being 'Rescue. Revive. Renew'.
Centre manager Tom Stobbart says "When we think about homelessness, we envisage people sleeping rough on the streets. But this serious issue extends far beyond that. It could be a young person forced to live in sheltered accommodation, while studying hard for a degree, or a mum forced to flee from her home as a result of domestic abuse and living in a temporary bed and breakfast with her children.  We may be a retail complex, but community is a large part of our ethos. We believe that by hosting this event, we'll begin to break the stereotype of homelessness and show it can affect everyone. Just because you have a bed, it doesn't mean you have a home".
Listen to Tom's interview with Time FM below
Whilst the overnight sleepout itself is a Brewery management only activity, we would love the Romford community to get involved by helping to raise further aid.
Read our new interview with Kim Merry, Founder of Hope4Havering here
With thanks to