archive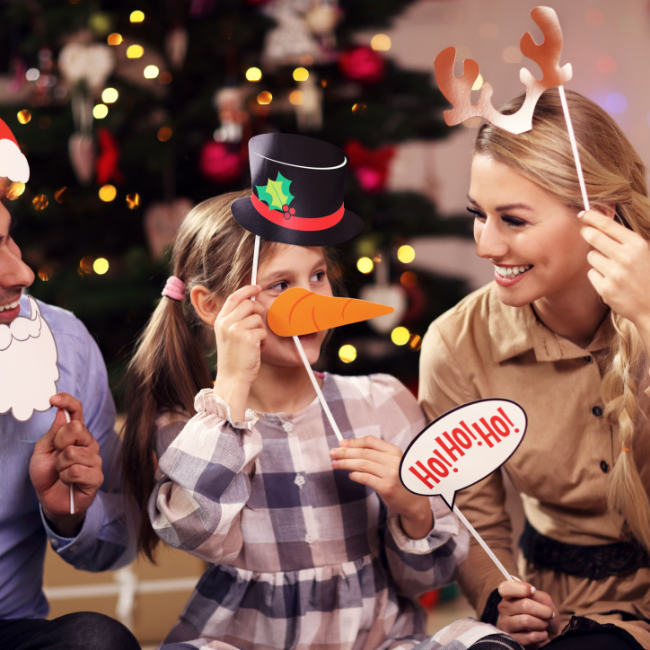 The Family Fun Guide for December!
We get it, 2020 hasn't been the best year and so much has been affected: holidays abroad with loved ones, date nights with your best friends or even the simplest things like seeing your grandparents!
Well, The Brewery want to make sure that the last month of the year can make up for it all… Whether it's having fun on zoom with family, new foodie creations or making everything 'just so' before Santa drops down the chimney!
We're here to give you a family fun guide on how to keep the kids (and yourselves) entertained during the month of December. With unique ideas and the centre at your fingertips, we're here to make your life simple and the festive period sparkle a little extra.
Cooking Biscuits for Santa & His Reindeers
Mr Claus and his pack of reindeer will be landing on your home imminently! He'll be shimmying down the chimney quicker than you can say Christmas cookies and milk… So, you better get your skates on a bake a few treats for them all to enjoy. Although, we heard carrots are preferred by Rudolph and his buds!
Here's a quick guide to making simple sugar cookies:
Ingredients: 225g unsalted butter | 225g caster sugar | 1 tsp vanilla extract | 1 egg | 2 tsp baking powder | 330g plain flour
Method: Preheat oven to 180°C | Cream together sugar & butter in a bowl until fluffy | Beat in vanilla & egg until combined | In a separate bowl mix the flour with the baking powder and slowly add to the wet ingredients a bit at a time.
At this point, the dough will be very stiff, so you won't need to chill the dough. Sort into manageable batches, roll out onto a floured surface and cut into your desired shape(s). Finish by baking in the oven for 8-10 mins and allow to cool on the baking sheet. Eh viola! Santa will be super holly-jolly when he sees these treats!
Be sure to grab any ingredients from Sainsbury's, baking utensils from Poundland or even fancy new tableware to present your new cookies on from The Range and TKMaxx!
We can just smell the sugary goodness…
Get Creative: Family Christmas Card Edition
Again, as social distancing is still around, it will mean a lack of face-to-face interactions with those you love the very most! A lovely way to feel more connected with friends and family is to make your own Christmas cards. Plus, getting the kids involved will mean extra glitter, Chrimbo themed stickers and felt tip pen stick people that look nothing like their cousins! You can easily grab arts & crafts from HobbyCraft or Sainsbury's and enjoy a night in with the kids, making something even the most distant of relatives will adore!
You could even dress up in your fave Christmas jumpers and snap a photo of you all, stick it on the front of some card with your special message inside and Santa's your uncle!
Christmas Movie Marathon!
This may seem like something you do on the regular, but you can turn it into a family weekend ritual throughout December! Give each person in the family the chance to choose a Xmas themed film they love and watch it with lots of snacks and fluffy blankets to hand!
We recommend grabbing new movies from Sainsbury's if you can't find anything on the telly! Snacks are a MUST from Sainsbury's as well as Dulce and even Patisserie Valerie *licks lips*… Although, if you fancy a savoury sandwich or traditional Italian sweet treat, be sure to visit The Prickly Pear to pick up a loaded focaccia or homemade Tiramisu to take away!
We also suggest ELF or Home Alone to begin with…
The Night Before Xmas: Zoom Style
Yep, we may not be able to have the WHOLE family together this Christmas, so why not have quality time, digitally on Christmas Eve! Yes, we said DIGITALLY! This way, you're able to have a chinwag or get everyone onboard with a fun, festive-themed quiz!
To step things up a Chrimbo notch, you could decorate a wall in the home, and have a competition to see who's oozing holly jolly vibes! Then, everyone on Zoom can vote – although, all you'd win is a round of applause and satisfaction that all the decorations you grabbed from The Range were worth it!!
Be sure to grab extra bits & bobs from HomeSense, Argos and Party Delights or even the children's favourite Christmas teddies from The Entertainer. (We're sure they'll be super happy about that!!).

Magical Surprises…
This is something that could make this Christmas the most magical it's ever been! You could buy fake snow, imprints of Santa Claus' boot or Rudolph's hoof and plant them coming from the back door or fireplace! Imagine the kiddies waking up and thinking that they've REALLY been in the house…
Even getting the younger kids to write and 'post' their Christmas letters or wish lists to the elf helpers in the North Pole would really work their imaginations! You can buy everything from colour pens, writing paper, stickers and more from the centre on your next visit!
Now that we've given you fun family ideas for the month ahead, we hope that you'll put them to good use and enjoy the time you have with family & friends. Be sure to keep up to date with The Brewery social channels and tag us in any pictures of the unique activities you've decided to do over the holidays!