archive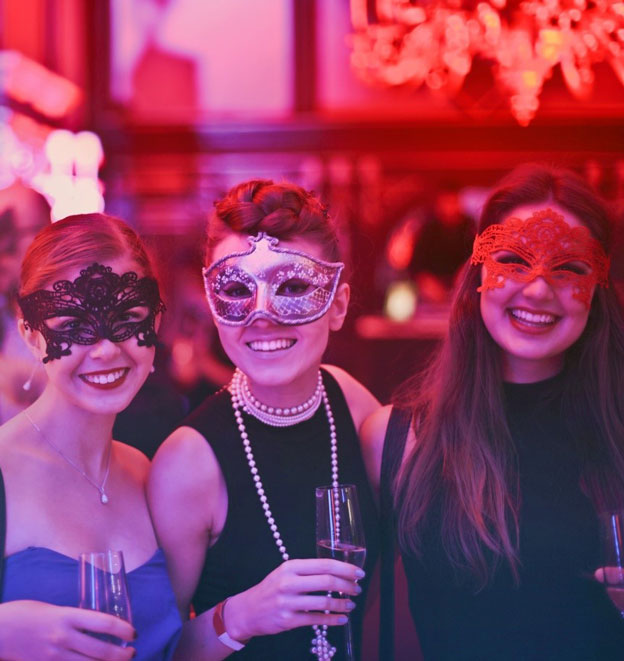 Xmas Bling
Will you be rocking around the Christmas Tree in one of 2018's best festive outfits?
It's that time of year: we all want something a little special for our festive gatherings. We've discovered that, where Christmas was once the preserve of the BLBD (blingy little black dress), there's now a much more exciting choice of styles. In 2018, anything goes, so here's our somewhat musical take on this year's Christmas styles.
We Three Kings of Gorgeous Print Are
Yes, it's still all about the statement print in the shops this year. Now joining those wonderful animal prints are geometric patterns and lots of stripes and polka dots, breaking away from the normal blingy black. Harper's Bazaar has some good inspiration for both patterns and textures in their holiday style tips article.

Jingle bells, Jingle bells, jumpers all the way
Has anyone noticed that the much-maligned Christmas jumper has finally become a fashion must-have? There's a huge range of these winter warmers about this year, adorned with everything from baubles to pom-poms or pictures of daschunds, llamas and, er, glasses of gin, apparently.
We're embracing this evolution of the nerdiest knitwear because it means we can all join in with Christmas Jumper Day and still maintain our style status. Check out some of the best here.
The 12 seasons of Christmas
It seems that we don't even need to be true to the weather when it comes to festive dress this year. Many fashionistas are repurposing their summer dresses by using tights or fantastically furry 'trophy jackets' to stay warm. It's a great chance to show off any last traces of that tan you worked so hard for and it brings some fun and frivolity to the festivities.

One-sie in Royal David's City
Ok, don't panic, we're actually talking about jump suits here but, you know, there's only so much you can do with alliteration.
But, oh wow, has the jump suit taken off this season! There are all manner of styles, from brightly coloured to bling-tastic glittering treats. Check out redonline for some of the best.

We wish you a yellow Christmas?
Just like those inevitable early daffodils who can't predict the British weather, the lovely geranium yellow that's set to brighten our Spring 2019 high streets has arrived already. Say goodbye to monochrome and embrace this gorgeous flash of colour to brighten the shortest, darkest day.
And, if you need any more convincing that 'yellow' and 'snow' in the same sentence can be a good thing, here's Kendall Jenner modelling that very trend.
Shopping insider at The Brewery
Argos
Purple Sequin Velvet Wrap Jumpsuit – £20.00
Next
Burgundy Reindeer Christmas Jumper – £35.00
TK Maxx
Gold Glitter Jumpsuit – £19.99
TK Maxx
Yellow Wool Jumper – £24.99